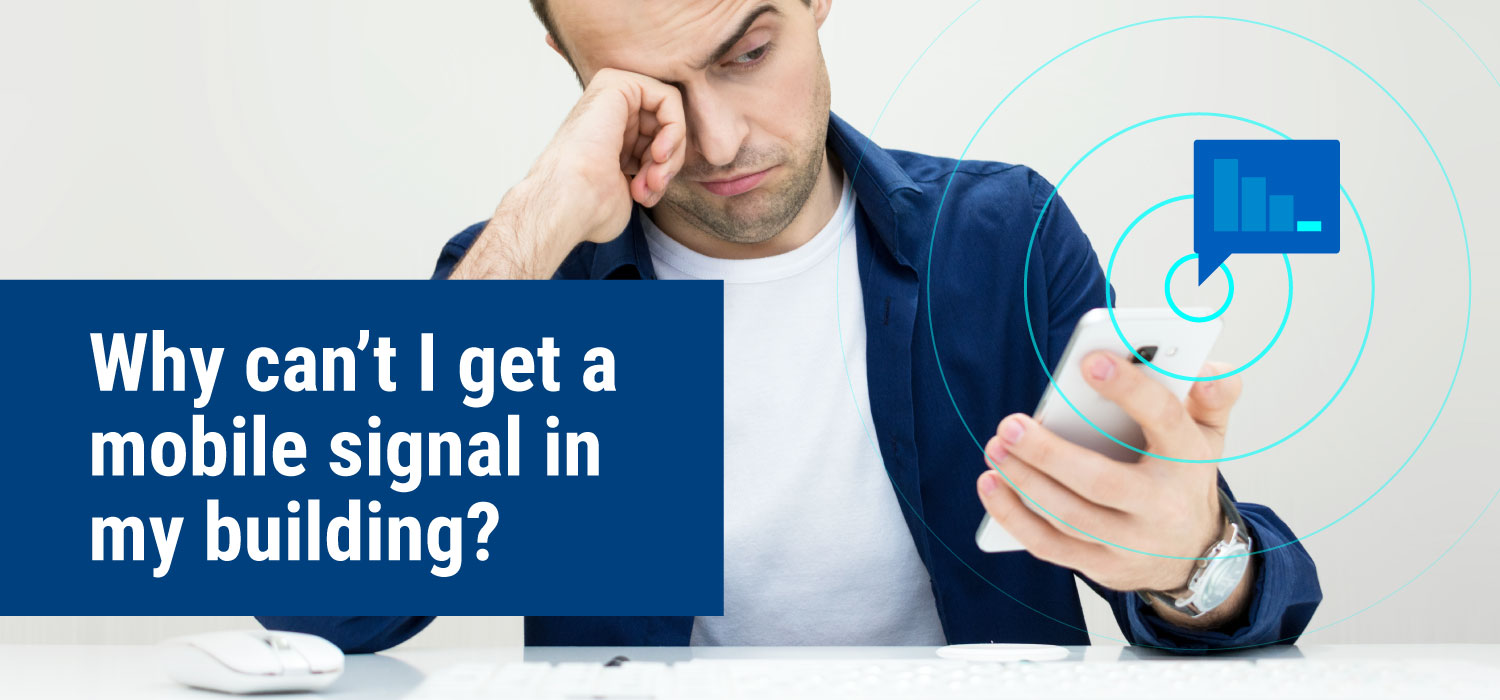 Why can't I get a mobile signal in my building?
Are you experiencing the following problems inside your office, home, or place of work?
Are you dropping calls?

Are your mobile data sessions hanging?

No bars on your phone?

Are you standing by the window or going outside to make a call?

Are you only getting half a conversation?

Are you missing out on messages?

Is your phone battery dying too quickly?
There could be many reasons why there is no cellular coverage, from the window and building materials to the lay out and the environment that you're in, as well as high population density.  Even the leaves on the trees can have an impact. 
How important is mobile coverage when you own a building?
In this age of communication, the mobile phone has become a vital part of our lives. Indeed, wherever you go, whatever you are doing, chances are someone within ten feet of you is on their phone. It passes time in a queue (and aren't we good at queuing?), it tells you when the last train is, enables you to join a meeting on the go, book your morning swim, your next food shop, or your next holiday. In short, we can literally run our entire lives using a six-inch screen and our thumb.
So what happens when the coverage goes?
If you're a business that relies on customers staying – a restaurant, hotel or supermarket for example, failure to provide a robust signal is going to see those people leave pretty quickly. We may all insist that there will be no devices when we're sitting having a meal with our family, but in reality, how likely is it that they won't need to check their phone? What if a guest is running late, what if they want to book taxis. If you run a supermarket and a customer is scanning the aisles for their favourite sausages only to find an empty shelf – with no mobile signal, how can they to ring home to see what to buy instead?
Whilst these examples might come across as slightly flippant – the reality is pretty straightforward, a business that supports all these great advances in technology is far more likely to succeed than one that doesn't.
What can we do to help?
At Pan RF, we have the capabilities to get you operational faster than any of our competitors and to deliver an enduring solution. We have an unparalleled team of innovative specialist engineers who have an unlimited range of technologies available to them in designing effective solutions for now and for the future.
To identify the coverage issues, a Pan RF engineer will visit your site to perform an analysis of existing signals from the four main mobile network operators (MNO) – EE, Three, Virgin O2 and Vodafone. Similarly, if you require radio coverage, we will conduct a site survey to identify issues and potential solutions. From the survey we will build a proposal for the best equipment to use to achieve what you require in the most effective way, and present this to you together with methodology for installation and the total cost of the solution in a detailed report.
What next?
If you want to find out just how easy it is to get your building up to scratch, simply book a site survey today using this contact form.
To book a Pan RF engineer to visit your site and carry out a no-obligation site survey, please fill out the form below.