London Offices Freed From Mobile Signal Frustration
In many offices these days people are asking to be freed from mobile signal frustration as they hang up the phone on landlines, increasingly enjoying the convenience of mobile phones. Unfortunately, demand for reliable cellular coverage to support this is not always matched by supply. In areas of high population density mobile operators work hard to provide coverage but demand and interference from building materials mean that, despite a strong signal externally, coverage in buildings is often frustratingly patchy. Pan RF helped a client to overcome this challenge of ensuring robust, reliable cellular coverage in their London offices.
  SEAMLESS COVERAGE
Seamless mobile coverage between the outside and inside of building
ZERO DISRUPTION
Turnkey solution installed with minimal disruption
 TECHNICAL SUPPORT
Pan RF's Network Operations Centre provides 24 hour support 365 days a year
Find out more about our mobile coverage solutions please get in touch.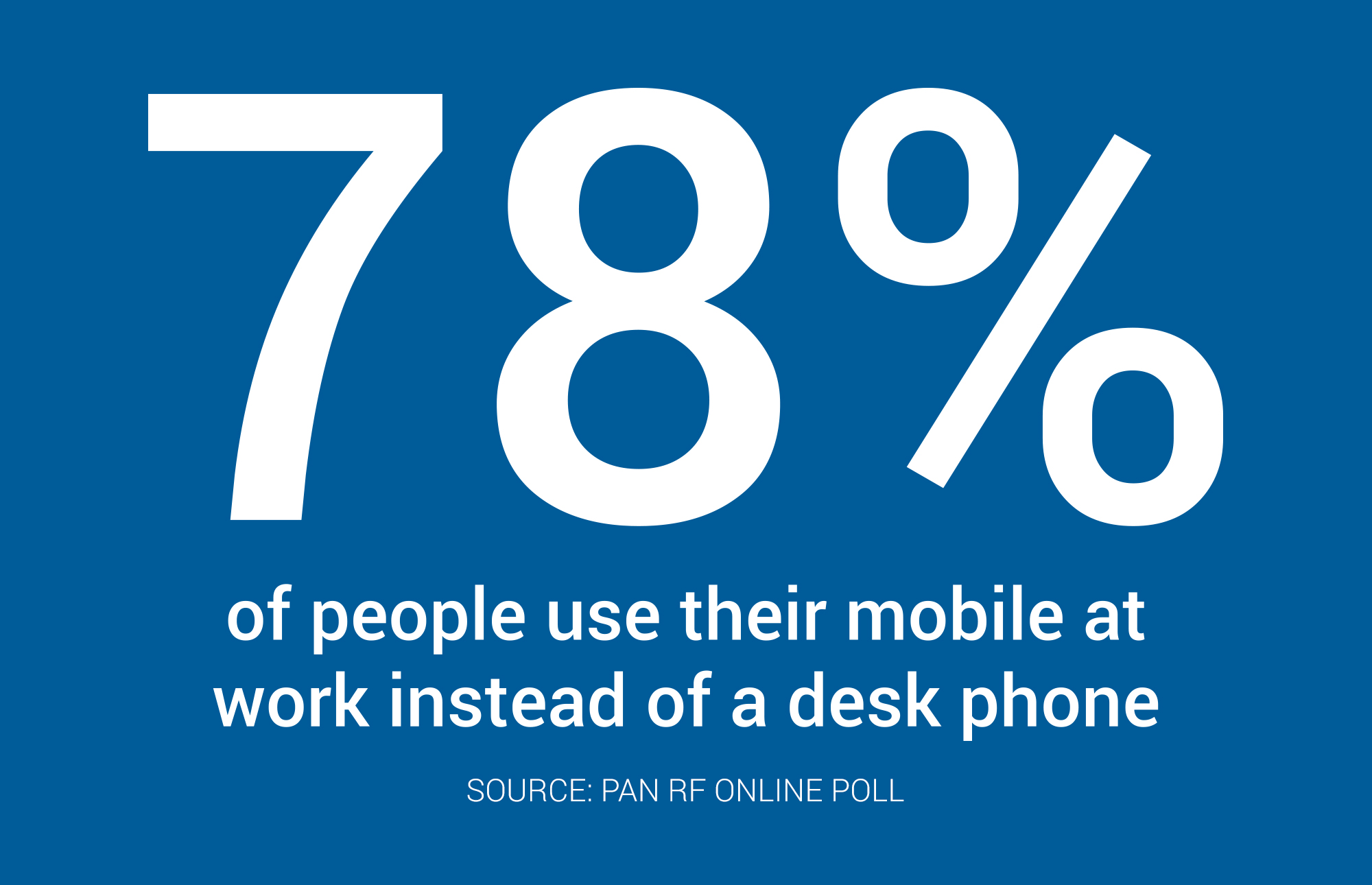 The Challenge – congestion and economics
Pan RF was approached to provide a solution for mobile coverage on two floors of a multi-tenanted commercial building in London. Part of the challenge in achieving this was overcoming congestion. With a population of over nine million people, most of whom have mobile phones, London needs a lot of mobile network operator sites to provide enough capacity.
Below is a screenshot from one of the major network operators (MNO) showing 4G sites in and around central London. Add to this the 4G sites for the other three MNOs and the sites supporting other generations of mobile technology and you see the scale of infrastructure. Even with this infrastructure coverage, particularly inside buildings where signals are hampered by building materials and the density of mobile users, coverage can be problematic.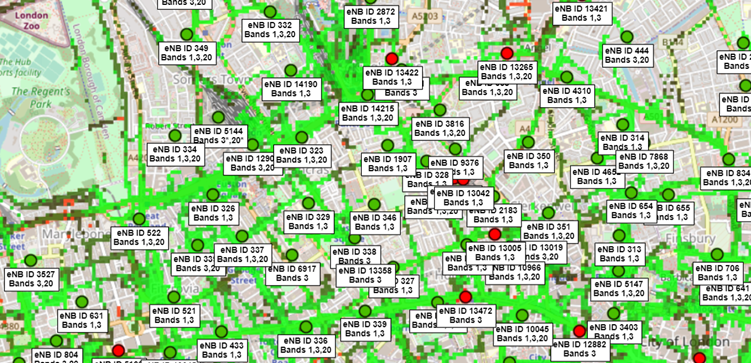 The second part of the challenge was down to economics. Who pays to resolve the coverage issue? Whilst the MNOs may invest to resolve internal coverage issues in large, high traffic sites – airports, shopping centres, etc. – generally, building owners or tenants pay to resolve coverage issues on smaller sites. Pan RF, therefore, had to devise a solution that would be financially viable for the client.
The Solution…and why after care is important
The solution Pan RF provided was typical for this type of application. Following a site survey, design, and proposal the client-approved solution was to build an 'off-air' active digital DAS (distributed antenna system). This solution captures existing mobile coverage at an external location (typically the roof of the building) and reproduces it within the target coverage area. The solution is quick to deploy and only requires a small footprint in the client's comms room.
The system for this client was built and integrated in five days, giving the client coverage throughout their offices with minimal impact on day-to-day operations. Job done.
Except it wasn't. 18 months after Pan RF installed the system, the client contacted Pan RF to say that the performance of their DAS had deteriorated.
Promptly attending the site to investigate, Pan RF established that there was nothing wrong with the system. The target site the system has been receiving from had been decommissioned, which does occasionally happen. A key limitation of off-air sources is that the in-building signal reproduced can only be as good as the outdoor signal being picked up. When the original signal dropped the Pan RF system had intelligently switched to the next best site, so the client still had coverage but not to the quality initially delivered.
Following a reanalysis of the external network environment, the Pan RF attending engineer was able to re-orientate the donor antenna to acquire a new, optimal site for the off-air signal feed, restoring the client's coverage and quality of service on the same day without interruption. Thankfully also more than restoring the client's satisfaction with Pan RF's service.
Pan RF's purpose is to create connectivity-positive environments, to free people from the frustration and disruption of unreliable mobile communication, as it did for this client. If you have coverage issues in a building you're responsible for please get in touch for a no obligation discussion of your requirements.