Robust mobile coverage for major food retailer's distribution centres
Pan RF has designed and installed in-building mobile enhancement (IME) systems at regional distribution centres (RDCs) for one of the UK's leading food retailers, providing robust mobile coverage to enable office staff to carry out their roles without the frustration of dropped calls or the need to stand near a window in the hope of getting a better signal.
Efficient operation requires robust mobile coverage
Office teams at the RDC's are provided with mobile phones for voice and data business communications, however many of the sites experience issues in obtaining reliable in-building coverage.
Several factors can affect the quality of a mobile signal within a building. Modern building materials and methods – reflective glass, insulation, triple glazing, cladding etc. – contrive to block the signal and, particularly if the signal is weak, the number of people within the building using the service can also have a detrimental effect.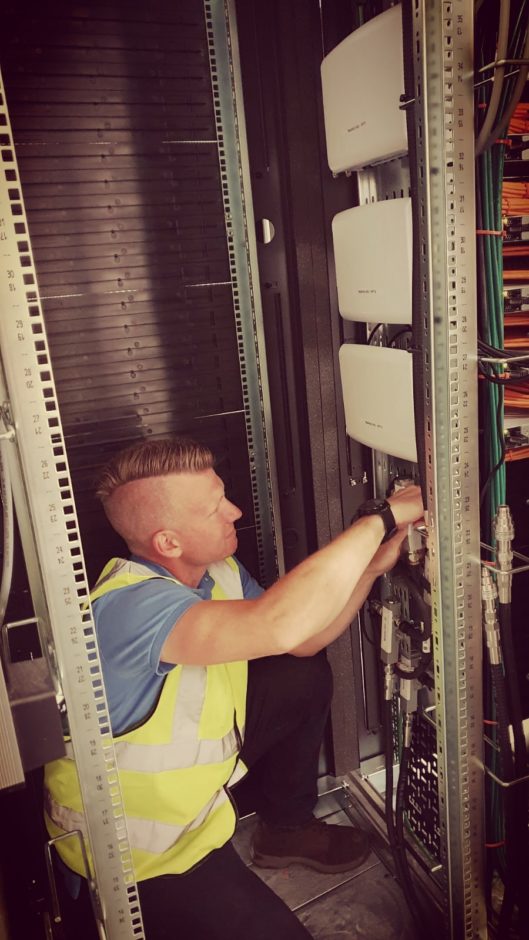 Forward planning for effective communication
Based on the success of a trial IME system in the offices at the Southampton distribution centre a further seven sites followed, including a new purpose built RDC in Peterborough.
While the Peterborough site was still in the construction phase, Pan RF carried out an initial site survey and submitted a proposal. Coverage and interference on high buildings in rural areas are not generally an issue, and the survey indicated that the external signal source was viable, i.e. network coverage was present and good, all that was required was to enhance the signal within the building, where building materials would block the penetration of cellular signals.
Returning just before the building was complete, Pan RF carried out a coverage survey measuring signal levels throughout the structure and presenting 'snail-trail' coverage maps on the site layout plans showing where levels were too low to provide a usable signal, confirming the need for coverage enhancement.
Once the installation of the IME system was complete Pan RF checked the new signal levels, providing undated plans showing the improved coverage, confirming that the proposed system would deliver as required.
Pan RF's legally compliant, cost effective solution was deployed in a very short timescale, providing immediate voice and data services for the team moving into the new facility.
The client's foresight in predicting the need for enhancement of the cellular signal within the offices, and the early involvement of Pan RF, meant that Pan RF's work could be scheduled into construction and plans could accommodate the necessary hardware and cabling. Retrofitting an IME system is feasible but more challenging, disruptive and costly.
"Over the past three years, Pan RF has proved to be one of our most reliable service providers. They have shown great care and attention to detail when designing and implementing radio frequency solutions. Their professionalism has been consistent throughout our working relationship, and I remain fully confident in their abilities to propose and deliver high quality services to the customer. Myself and my team consider Pan RF to be a solutions driven organisation. Working closely with their highly skilled representatives has been a pleasure and no doubt will continue to be in the future."
Client's IT Service Manager